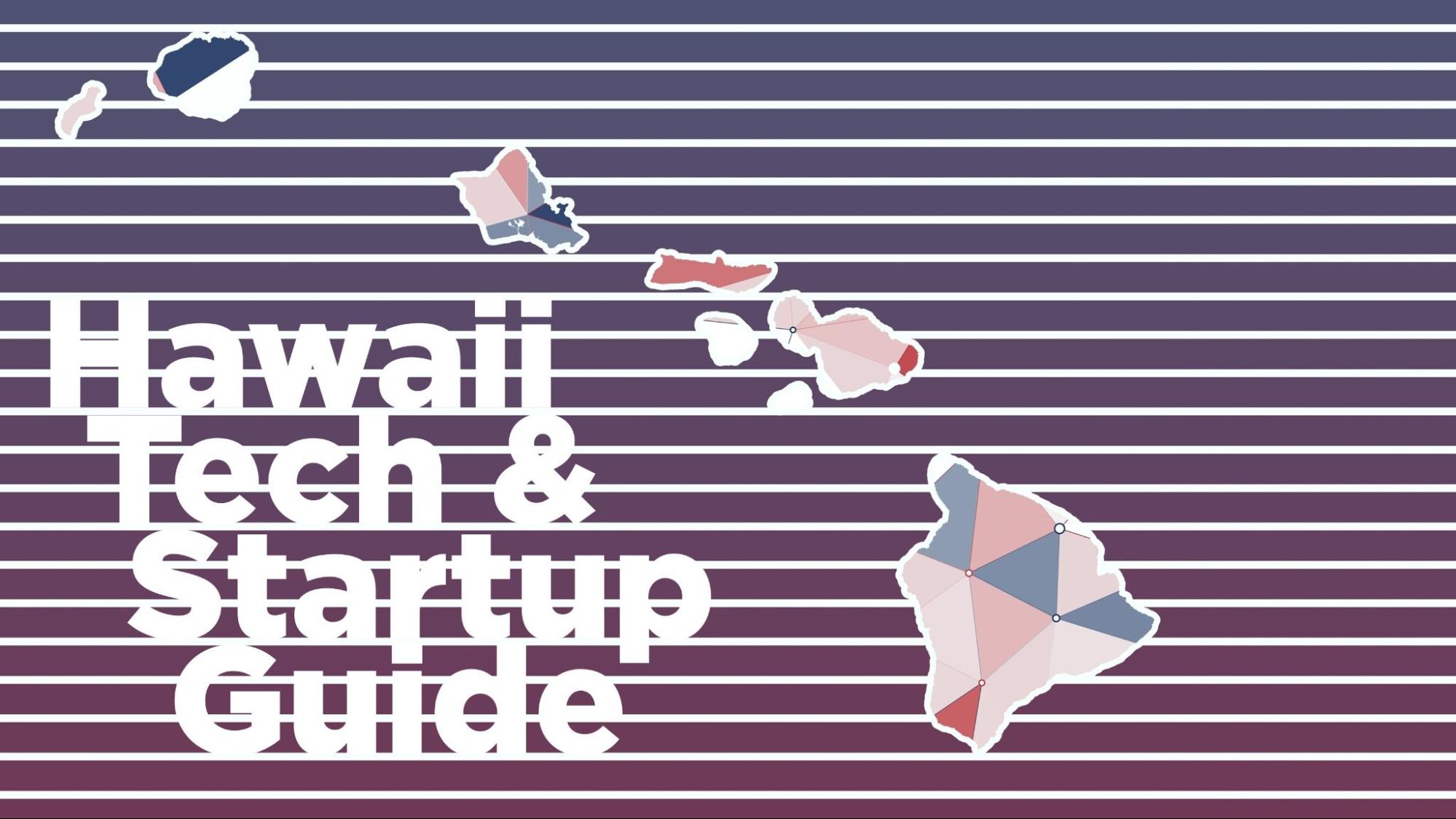 Recommended resources to get plugged into the Hawaii tech scene.
The Hawaii startup scene is growing and has lots of resources available. The goal of this collaboratively-written guide is to make it easy to find people and resources. It can be easily found at guide.hawaiitech.com. The live, latest version lives in Google Docs here. You are invited to contribute—drop us a line! Last updated July 11, 2023.
Contents
Hawaii Geographic Information Coordinating Council (HIGICC)
Hawaii Technology Development Corporation
Hawaii Venture Capital Association
The Pacific Asian Center for Entrepreneurship
Startup Hawaii (Hawaii Island)
UH Office of Innovation and Commercialization
Tidepools @ Central Pacific Bank
Startup Oahu (was Honolulu Startup Drinks)
DBEDT Targeted & Emerging Industries Report (2021)
Hawai'I Digital Literacy & Readiness Study (2021):
An Analysis of Hawaii's IT Workforce Needs (2021):
HTDC 2016 Annual Report (2016):
Hawaii Innovation Assets Report (2015):
Building Hawaii's Innovation Economy (2012):
Community Resources
Hawaii Bulletin is a free email newsletter covering innovation in Hawaii. Hawaii-based science, technology, startups and entrepreneurs, featuring local leaders, creators, educators, and more.
Hawaii Slack is a Slack group for people in, from, or in love with Hawaii to talkstory, tell stories, share advice, trade tips, and more. From debating the best place to get Ahi poke to getting home improvement advice, from raving about the latest Slack-key festival to sharing your favorite movies; almost anything goes
ThriveHI is on a mission to move Hawaii from surviving to thriving by making a sustainable, resilient, and economically abundant local tech and entrepreneurship ecosystem. We connect the necessary people, organizations, and capital to catalyze growth in Hawaii's tech scene.
Organizations
Code for Hawaii, a branch of Code for America, meets the first 3 Wednesdays of every month at 6pm-8pm. It's a volunteer group of developers gathered to use their skill sets to bring civic projects to life that can help the community
Creative Lab Hawaii is a State of Hawaii program composed of three separate modules: Immersive Programs, Ideation Workshops, and Public Programs. Their intention is to accelerate global export of Hawaii's creative content and creative products to strengthen our creative entrepreneurs' capacity for success.
Breakfast and a short talk one Friday morning a month. Every event would be free of charge and open to anyone. Today, attendees gather in cities around the world and online via Virtual FieldTrips to enjoy creative connections, inspiring community, and generous opportunities. Local chapters celebrate a city's creative talent and promote an open space to connect with like-minded individuals.
A private non-profit organization consisting of members of Hawaii's geospatial community. Our goal is to provide coordination of geospatial activities among a wide range of users in order to avoid duplication of effort, promote data sharing, and maintain data standards throughout the state.
HTDC is the government agency that works most closely with the startup community, and they run (with BoxJelly, a great coworking space) the Entrepreneurs Sandbox -- follow all of those on social media for sure
HVCA strives to serve as a catalyst and beacon in the heart of the Pacific for entrepreneurship, venture capital activity, and growth
A directory and community of Native Hawaiians in the technology industry. The goal is to connect, inspire, provide representation, and promote the presence of Native Hawaiians who work in the technology industry.
The Center's 20+ programs offer mentorship, training and resources to all UH students and faculty, and are designed to encourage entrepreneurial thinking across disciplines and inspire entrepreneurs to move their ideas from conceptualization to commercialization.
Contract management, tech to market, training and consulting.The Pacific International Center for High Technology Research.
Startup Hawaiʻi is building a technology startup community on Hawaiʻi Island with the ultimate vision of creating an economic future that is diverse, equitable, and sustainable. This ecosystem - connections, infrastructure, and resources - will empower local tech founders to launch and scale their companies.
UXHI is a volunteer-run UX design community founded in May 2021 that connects people in Hawaii and those with Hawaii ties interested in user experience, UI design, UX research, and everything in between.
The OIC is tasked with managing the research and innovation developed at all 10 campuses within the University of Hawai'i System, protecting University of Hawai'i intellectual property and technology assets and sharing those assets with a broader community to address the challenges and opportunities faced by Hawaii and the world.
Coworking Spaces
Founded in 2011, BoxJelly is Hawaii's longest-running coworking space. With an original location (once an annex to a furniture store) still operating on Kamani Street, they now have a new space in Ward Village in the heart of Kakaako.
This 13,500 square foot facility features event space, coworking and collaboration space, meeting rooms, and small offices. Operated jointly by the HTDC and BoxJelly.
With these challenging economic times we want to provide a comfortable place for you to maximize your efficiency while being highly productive. We believe a clean, affordable shared work space will allow our community to develop the economic infrastructure that will build stability and prosperity for decades to come.
Originally part of the global Impact Hub network, this now independent coworking space is located in Kakaako across from Whole Foods. Dedicated desks, 31 offices downstairs and 13 offices upstairs in Suite 200, meeting and event space, and mail service. Voted Best Coworking Space in Honolulu two years in a row.
Ka Waiwai Mōʻiliʻili provides a place to physically, spiritually, and intellectually dream and create together with the aid of a welcoming staff, full A/V capabilities, a food service area, and ample parking. Ka Waiwai Nuʻuanu provides a place to get the creative juices flowing with the benefits of self-entry access, a food service area, full bath, and a beautiful shared "The Loft" space.
WORKSHOP Coworking is the result of two friends seeking a reliable workspace near our little slice of Hawaiian paradise – Oahu's North Shore! We are located in Waialua's Old Sugar Mill, just 3 minutes from Haleiwa Town, 15 minutes from Sunset Beach, and 20 minutes from Wahiawa or Mililani. We have desks available daily, weekly, monthly, and also offer private rentals.
Accelerators
Blue Startups is a Top 20 Accelerator in the U.S. (

Techcrunch

) focused on helping technology startups compete on a global scale. With deep domain expertise in technology and an extensive network in Asia, Blue Startups is a nexus of entrepreneurial activity in Hawai'i, and between Asia and North America. Blue Startups was founded by Henk Rogers, founder of the

Tetris Company

,

Maya Rogers, CEO of the Tetris Company and Chenoa Farnsworth of

Hawaii Angels

in 2012 and has been a full member of the

Global Accelerator Network

since 2013. Blue Startups is funded by the State of Hawaii, Hawaii Technology Development Corporation and private investors.
Formerly the Hawaii-based Energy Excelerator, the Elemental Excelerator's startup accelerator program funds startups and growing businesses building solutions in energy, agriculture, water & mobility.
FoundHer is an accelerator program tailored specifically to the needs of Native Hawaiian, Pacific Islander, and/or Asian women and mothers starting businesses in five core markets of Hawaiʻi's economy: Tech, Fashion, Health & Wellness, Food System/Restaurants, and Keiki/Education.
Hawaii Technology Innovation Development Ecosystem is a UH System innovation incubator program that provides concierge services, seed funding and resources specifically tailored to meet the unique needs of academic entrepreneurs with UH-affiliated, deep-tech startups.
Their vision is to fuel an economic growth engine for Hawai'i that can generate success for the local economy, support the high cost of living in Hawaii, and create well-paying, interesting jobs for locals
SIIP is a 4-month long incubator program to help early stage socially-minded founders reach their next important business milestone. Whether you are developing a non-profit organization or a socially impactful business, SIIP will help you build community and build your venture.
Accelerating Hawaii's Innovation Community. XLR8HI is a community movement & member network of dreamers, builders, & doers.

Pre-X

is a free 4-week virtual investment readiness and business scaling program for those who want to get to the next step.
Venture Capital
We invest in the people, products and processes that power commerce in the physical and digital world. Because when you layer technology over daily life, it transforms how the real world works.

Alpaca VC analyst Noah Williams is based in Honolulu.
We help founders modernize antiquated industries And we invest in those bold enough to solve the biggest technology challenges.

Builders VC Program Director Johnny Chankhamany is based in Honolulu.
We are a venture capital fund investing in early stage startups that are innovating women's health & wellness. Our companies reflect a synergistic portfolio that aims to transform and revolutionize a woman's healthcare at every stage.

Impact Officer Su Chuen Foo is based in Honolulu.
A venture capital firm investing in deep-tech innovations for security, health, energy, and infrastructure. Decisive Point's mission is to solve tough problems that matter, supporting mission-driven startups and amplifying investments with public R&D funding.

Decisive Point operates accelerators in New York and Hawaii.
Sultan Ventures is a venture firm helping visionary founders build successful, long-lasting businesses by supporting them at every stage of their journey. This means we're engaged from initial idea to long-term success.
Technical YC alums who invest $100k+ first-money checks into companies that help accelerate us into future where technology, communities, and nature work together.
Meetup Groups
A safe, supportive, and judgment-free space for women who have—or are pursuing—careers in tech! Currently we are meeting virtually once a month
Extended Reality (XR) is the umbrella term used for VR, AR, and MR, as well as all future realities such technology might bring. XR covers the full spectrum of real and virtual environments.
This group is for developers and technology people of Kaua'i. We are a collection of students, mentors and advocates for technology advancement on the island of Kaua'i. Our events will be technology focused educational sessions and networking.
This is a group for people on Maui looking to network with other tech professionals. We typically meet quarterly, rotating between the south side (Kihei) and Upcountry (Makawao/Paia). Anyone who works in tech - software or hardware, independent, entrepreneur or corporate - is welcome. Especially you geeks that work remote and hardly socialize.
If you work in the tech industry, whether for a local company or working remotely from Oahu, please join to connect with others and share your experiences.
PyHawaii is a community dedicated to the growth and use of the Python Programming Language in Honolulu, the Islands of Hawai'i and across the Pacific. Join us for tutorials, projects, mentoring, sprints and activities throughout the month. All skill levels are welcome!
Facebook Groups
Group for Hawaii tech entrepreneurs, executives, founders, analysts, advocates.
We are dedicated to help facilitate and build a startup community in the Big Island of Hawaii. Also, if you are currently working on a startup or business wanting to grow, we would love to hear about your ideas and business.
Makerspaces
Our goal at the Kauai Makerspace is to create a community workspace that fosters creative technological exploration, education, and invention. The makerspace is where tools and knowledge are shared, lowering the costs to building, prototyping and creating.
Maui Makers is a non-profit community space that gives you access to the tools, training, and community you'll need to feel comfortable making just about anything. Memberships are now open to everyone.
Small batch prototyping for Hawaii's makers. A nonprofit makerspace helping small businesses, makers and artists thrive by staying agile. Providing creatives a chance to design, prototype and make.
Coding Schools
Based in Honolulu, our mission is to empower young minds to become confident and creative problem solvers through the art and science of coding. We have designed a fun, interactive, and engaging program tailored to different levels of coding knowledge. Our goal is to leave a lasting positive impact on Hawaii's education system by providing a safe and inclusive environment for children to thrive.
Industry Reports
DBEDT Targeted & Emerging Industries Report
(2021)
https://files.hawaii.gov/dbedt/economic/data_reports/emerging-industries/Hawaii_Targeted_Emerging_Industries_2021_Update_Report.pdf
Hawai'I Digital Literacy & Readiness Study
(2021):
https://labor.hawaii.gov/wdc/files/2021/11/Final-Statewide-Digital-Literacy-Survey-Report-from-Omnitrak-11.15.2021.pdf
An Analysis of Hawaii's IT Workforce Needs
(2021):
https://www.hec.org/itworkforce/
HTDC 2016 Annual Report
(2016):
https://www.htdc.org/wp-content/uploads/2017/07/HTDC-Annual-Report-2016-Reduced-Size.pdf
Hawaii Innovation Assets Report
(2015):
https://www.hawaii.edu/innovation/wp-content/uploads/2015/06/HIAR_r11_lores.pdf
Building Hawaii's Innovation Economy
(2012):
https://ncbi.nlm.nih.gov/books/NBK99287/
Contributors
I encourage you to contribute to this guide. This document won't be truly great without your help! It's just a Google Docs document to keep updates simple. Email guide@hawaiitech.com to be invited!
Credits
This doc was started by Ray Berger and originally shared in Hawaii Slack. Thanks to subsequent contributors:
Trung Lam

Ryan Ozawa

Markus Richard

Maitri Joy Carmichael